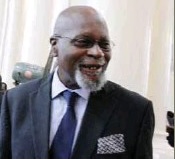 Pen, piano and scalpel – the life and times of Olufolabi Olumide, Professor of Surgery
By Femi Olugbile
In the flesh, he was impressive, not through an in-your-face projection of power and presence, but in the calm, self-assurance of his demeanour. Folabi Olumide – poet, pianist, Professor of Surgery, died in Lagos recently, at the ripe old age of eighty-four years.
He was a careful, meticulous man. Even the smallest detail mattered, whether it was a tiny bleeding point in an incision, or the supposedly inconsequential fact that his name was not Afolabi, as people seemed to assume, but Olufolabi. In his autobiography, titled 'If I Had Wings…' which he self-published four years before his death, he reveals that his father told him that the name he was given at birth was Olufolabi, and not the more common appellation 'Afolabi'. Having been so informed, he took it upon himself to stay faithful to the received version by officially adopting the moniker – 'Folabi'. If some people were inclined to ask why there was so much ado over a mere naming detail, the Professor, scion of a proud Egba father and a mother related to the Ologun Kutere royal family of Lagos, would probably reply that to a true-born Yoruba, a name was 'everything'.
A brief tribute to the man presents an opportunity to do a review, after a fashion, of 'If I Had Wings…' and his other literary work, a book of poems titled 'I Sing…'
There is a conversational tone to the flow of 'If I Had Wings…'. Reading it now, you can picture the author sitting at the other end of a three-seater, explaining himself with his soft, precise elocution.
There is an industry surrounding 'biographies' in Nigeria. Pompous, corrupt politicians, military governors, even heads of state have been known to hire hagiographers to write heavily embellished versions of their life stories. These works are then 'launched' at public venues with much fanfare, with a myriad of favour-seekers, contractors and 'Royal Fathers' stumbling over themselves to 'launch' the book with huge amounts of money. Beyond the fanfare of the book launch, nobody is ever likely again to open the book.
In 'If I Had Wings…' Folabi's achievements are understated, if anything, and the highs and lows of a life filled with achievement are rendered in the most matter-of-fact manner. Professor and Dean of Clinical Sciences. Provost, College of Medicine, University of Lagos. Would-have-been foundation Provost, Obafemi Awolowo College of Health Sciences, Ago Iwoye. Inaugural Vice Chancellor, Lagos State University, a position for which he was personally interviewed by Lateef Jakande, the Governor of Lagos State. Chorister at the Cathedral Church of Christ, Marina. Choirmaster at the Church of the Healing Cross, Idiaraba.
His reach and how it might have irked lesser mortals is best captured by an event that did not even happen. As Vice Chancellor of a Lagos State University eager to 'punch above its weight', he had invited Nobel laureate Wole Soyinka, Chinua Achebe and JP Clark, to a special Convocation ceremony to confer on them Doctor of Literature (DLit) degrees. By now, there had been a military coup. His original employer, Jakande was out of office. A man named Buhari was head of state. The air in Ojo was thick with excitement. For the day, and perhaps in perpetuity, LASU was going to be the cynosure of all eyes for Nigerian literati. Who knew what good could follow? Perhaps a Soyinka amphitheater? Perhaps an Achebe library, donated by an excited sponsor? No University had celebrated all three of the 'troika' together, so soon after Nigeria's first Nobel prize in Literature.
On the eve of the event came a directive from the Military Governor of Lagos State, broadcast on radio. The Convocation had been cancelled. No reason was given. Folabi was faced with the mortification of apologizing to his guests.
There is another perspective to the same story, supplied by J.P. Clark in the foreword to 'I Sing..'. Chinua Achebe had arrived from Nsukka for the Convocation and was his guest. Soyinka was already in town. They had their ceremonial robes ready. As they arrived LASU on the morning of the event, they heard the bombshell announcement.
Twenty-five years later he, JP Clark, accosted Mike Akhigbe in Abuja and asked him why he had cancelled the LASU Convocation. Akhigbe could not remember!
There was always something very 'old Lagos' about Olumide. He was born on Carrena Street in the 'Brazilian quarters'. As a boy he would walk with his friends to choir-practice at the Cathedral on the Marina. He sang in the choir, and his father was People's Warden. Igbobi College. University College Hospital, Ibadan. Back to Lagos. General Hospital, Odan. McGill University, Canada. Lagos University Teaching Hospital. Lagos State University. Saudi Arabia. After retirement, there was private practice in Surgery and Endoscopy with his mentees – Kamoru Omotosho and Wole Abiodun-Wright. Along the way he got married to the love of his life, Folasade, and they raised four high-flying children.
He loved to play the piano and to sing – in Church, at home, in a choir with friends.
A musical celebration of life after his 'Wake Keeping' at the MUSON Centre, attended virtually by hundreds of people he had touched in his life, proved a truly touching experience. Professor Fagbohun, the outgoing Vice Chancellor of LASU announced that the University's Health Centre would be renamed after him. An actor of great presence and voice portrayed Folabi in his journey of life, in a musical tour de force. One of his daughters spoke of how he blessed his gathered children with his last breath, 'like a patriarch of old'.
Yes, the book 'If I could sing..' could have been better bound, and the pages better arranged. No, Folabi is not John Keats, as JP Clark admits. But his poetry is romantic in its Eros and Agape sections and is unabashedly committed to goodness and to God.
A truly great life, worthy of celebration. May his soul rest in peace.