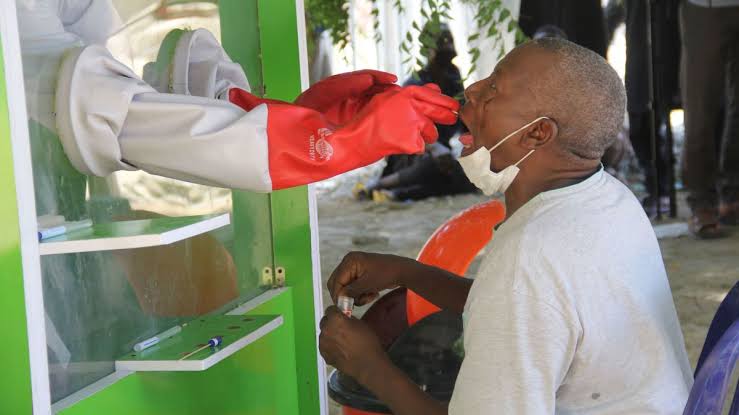 12th Feb 2021
|
by:
admin
COVID-19 and Nigerian doctors
By Femi Olugbile
Ade (not his real name, though this is a true story) woke up from sleep one morning in April, 2020, feeling languid and slightly feverish. 'Malaria' was his first thought. He had been working extra hard in the past few days. The practice was building up, especially now that some HMOs had signed on to give their high-end clients access to his famed expertise. He was a high-flying gynaecologist, in the middle of relocating his practice from Johannesburg, South Africa, back 'home', to Lagos, Nigeria.
He usually felt better by the second day of treatment with an artesunate combination and paracetamol.
The next day, he was feeling much worse, and barely able to get out of bed. By the third day, it was obvious something was seriously the matter. Though he completed the artesunate, he knew this was not malaria.
The hospital linked up with some of his colleagues, and he was able to get a PCR test done. Barely twenty-four hours later, the result was out. He was ill with COVID-19.
It was like a bad joke.
No, he was not going to any Isolation Centre, he told his family and his worried doctors firmly. He would do self-isolation at home, with all the immune-boosting therapies that were the standard fare at the time, and even untested ones that were being used in the confused environment of the early days of the pandemic. A cylinder of oxygen with a face mask stood ready by his bedside.
His wife, thoroughly alarmed now, hurried to catch the first available flight from Jo'burg.
In this fashion, Ade rode out what he thought were the most horrible days of his life.
Gradually he began to get better. Some of his friends joked that his recovery began from the date Madam finally made it in from Jo'burg and began to give him his favourite pepper soup.
Three weeks on, he tested negative for the virus.
It took much longer to get his appetite and his energy fully restored.
It was not until July that he resumed a full clinical schedule. He had experienced an existential anxiety when he was delirious and in severe body pain during the COVID crisis. At one point the thought had actually crossed his mind that he was suffering too much and perhaps he should allow himself to slip away. He had had no help with his anxiety and had not dared to share it. Some nights he woke up from a fear-ridden sleep, drenched in sweat.
But he was okay now. He scrupulously enforced a COVID19 preventive protocol in his hospital and advocated it passionately to all his colleagues.
Eight months passed. Christmas was approaching.
In the middle of December, Ade began to feel weak and feverish.
Not Malaria again, he thought!
After completing a course of antimalarial and not feeling better, he playfully went along to a nearby lab for a COVID19 test. It was negative.
Madam demanded he come over to Jo'burg immediately.
By the time he landed in Jo'burg, he was feeling quite ill. Straight from Oliver Tambo airport he went to take another COVID19 test. It was positive.
It was impossible, but there it was. He was down with COVID19, eight months after an index episode. And he was positive, a few hours after a supposedly negative test in Lagos.
Again, he resisted pressure to go into hospital. A Consultant colleague treated him in a bubble at home, pumping him with the standard fare of COVID19 therapy, but also intravenous infusions of high-dose immune-boosters used in South Africa that were not part of the convention. Occasionally he had oxygen through a face mask.
He slipped in and out of delirium.
He survived.
A few weeks ago, Ade returned to Lagos. He struggled with his mood. For some time, he had to resist the temptation not to pick the phone when his friends called.
According to the NMA, over one thousand Nigerian health workers, principally doctors and nurses, have been infected with COVID19. Some have died. Most of them are in Lagos, Kaduna, and Abuja.
What is not often advertised is that, unlike the situation in Europe and America, many of the affected are only 'frontline' workers' in an extended sense, meaning they are not staff of Isolation Centres. Because only one million or so tests have been done in a population of two hundred million, because no antibody surveys have been done to determine what percentage of Nigerian population have been 'silently infected' and recovered, every patient walking into every doctor's surgery, public or private is a potential contact. The Lagos advisory to 'treat every fever as COVID until proven otherwise' is reasonable, but impractical. It would require all consulting staff to always use elaborate personal protective equipment, which they cannot afford, and to test almost everybody, which they cannot do.
It is important for the public to appreciate the great courage and commitment it takes for a doctor – any doctor, to go to work in Nigeria today – the danger they run to themselves and their families.
Ade's case also shows, scarily, that reinfection is possible after some months.
Ade is getting back to his ebullient self, and the women of Lekki-Ikoyi axis are queuing up to go under his knife or endoscope in his high-end practice. In the weeks he was ill in Johannesburg, a number of Nigerian doctors, including other prominent gynaecologists, died in ICU in South Africa.
Ade has a theory why top-line gynaecologists appear especially vulnerable – perhaps the carbon dioxide used in abdominal endoscopy disperses the virus from the 'silently infected' patient into the atmosphere after the doctor completes his procedure. The patient survives, the doctor may die.
Ade, it seems, was infected twice by his well-heeled Lagos patients.
Nigeria should value its doctors and do what it can to protect their lives. It may be easier said than done, but Nigerians should at least know the facts, and show they care.