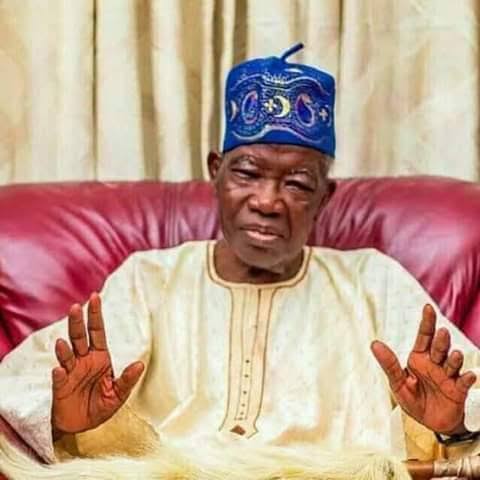 19th Feb 2021
|
by:
admin
Lateef Kayode Jakande – a tribute
By Femi Olugbile
His house, in an obscure corner of Ilupeju, was nondescript.
Embedded within your admiration of the man, as you entered his presence, was beef over a few issues you struggled to understand. You had read the books written about him, but you felt no nearer apprehending the real LKJ essence.
His living space was spartan and practical. He had converted a portion of his upstairs balcony into an office of sorts. Sitting behind a desk piled with papers, he would go through correspondence as he conversed. It was clear his cognitive abilities were razor sharp as ever. He wielded a red biro pen, casually correcting the grammar and typos in whatever document lay before him.
Sadly, the book you were planning would not come to be.
Lateef Kayode Jakande was born in the Epetedo on 23rd July 1929. He attended primary and secondary schools in different parts of Nigeria, including a brief stint at King's College in 1943, and a concluding spell at Ilesha Grammar School.
He commenced a career in Journalism in 1949. In 1956, he was appointed editor-in-chief of the Tribune. Later, he would establish John West Publications.
In Politics, he placed himself firmly in the 'progressive' camp and was a staunch supporter and protégé of Obafemi Awolowo.
In 1963, he was tried and jailed, along with Awolowo and some other members of the opposition, by the government of Tafawa Balewa on a charge of 'treasonable felony and conspiracy'. He was sentenced to seven years in Kirikiri prison.
Incarceration would prove to be the birthplace of the Lagos dream. In 1966, he published a booklet titled 'The Case For A Lagos State'.
In 1979, he was elected as Governor of Lagos State. The wheel, it seemed, had come full circle.
In his inaugural address, delivered on 1st October 1979, he traced the history of Lagos, from colonial possession to federal capital territory. He paid tribute to the first military administrator, Major Mobolaji Johnson. He surmised that some of the ideas in  'The Case for a Lagos State' must have helped in some way to form the basis of the Lagos delegation's submission to the Adhoc Constitutional Conference of 1966 which eventually led to the creation of Lagos State in 1967.
Setting himself squarely in the template of the Unity Party of Nigeria, he announced the immediate introduction of Free Education in Lagos State. Boarding Houses would be phased out, though they could be temporarily taken over by PTAs.
His hand swiftly moved all across the state like an artist's, creating brushstrokes of highly visible, transformative change. He wanted every child enrolled in school, and moved massively to expand capacity, building new schools, sometimes on community playgrounds and the sports fields of old ones, expanding intake, creating multiple streams.
He built General Hospitals in all the divisions of the State and sought to implement Free Health. He built a government secretariat at Alausa, and a television and radio station. He built low-cost housing estates in different areas. He built and expanded Water Works. He built and expanded roads.
He was a leader both for the little man and the big picture.
By the time he won reelection in 1983, not only was every Lagosian feeling the impact of his relentless drive, but he was already building the future. He was going to build a metro line that would ensure smooth mass movement for a burgeoning population that would soon make Lagos one of the major cities of the world. International bidding had taken place, and the contract had been awarded to a French consortium. Equipment was already on ground at Yaba, the node.
And then a military coup took place. In a decision so bizarre it is fit to this day for Business School case study from Lagos Business School to Harvard Business School, as a demonstration of how expensive a lack of intelligence and vision can be to the public good and the public purse, the stern-faced 'anti-corruption' new rulers of Nigeria, ostensibly on the basis of 'financial irregularity' reported by Ojetunji Aboyade, an otherwise well-regarded economist, decided to abort Jakande's metro line, paying as penalty the same amount of money it would have cost to build the metroline!
Jakande, in the years since, has been too polite to vocalize his ire over the abortion of his dream.
In the recent past, with the expenditure of humongous amounts of borrowed money on endless construction of a poor Chinese substitute for his original mass transit, how it must have irked him in the depth of his soul!
Later Jakande, the committed progressive, would do herculean work as Housing Minister under the much-reviled dictatorship of Sani Abacha, a man the antithesis of everything he stood for. How could he, many of his admirers wondered, then and now, abide someone whose body language let it be known that he had conquered the Yoruba and cornered the Central Bank?
LKJ lived quietly and simply, as he had always done, in his last days. He carried about his person such moral authority as no living politician in the land could match.
And yet some of his most fundamental logic could be questioned, and should have been. The 'anti-elitism' that made him and his colleague Bola Ige take down Igbobi College and Government College Ibadan could be well-intended passion gone awry, surely! The Boarding House was not extraneous to good education, it was essential to it. Egalitarian mobility required that educationally, the lowliest be moved up to the level of the 'privileged', especially if such 'privilege' was based on merit, not money. It did not require that everyone should be 'levelled down'.
And even 'Free Health' needed rethinking. Nothing was 'free'. Someone was paying. It was either Tax or Insurance, for sustainability. Did the future for financing citizens' access to good healthcare in Lagos lie in a single-payer system, or a multiple-payer system? What it could not be was a 'no-payer' system!
But arguments about how to build the ideal society will go on for many years to come, perhaps forever.
A man of ideas. A man of relentless, unsparing application. A giant in the mould of Obafemi Awolowo, the one man he venerated. The father of modern Lagos.
May the great soul of Lateef Kayode Jakande rest in perfect peace.