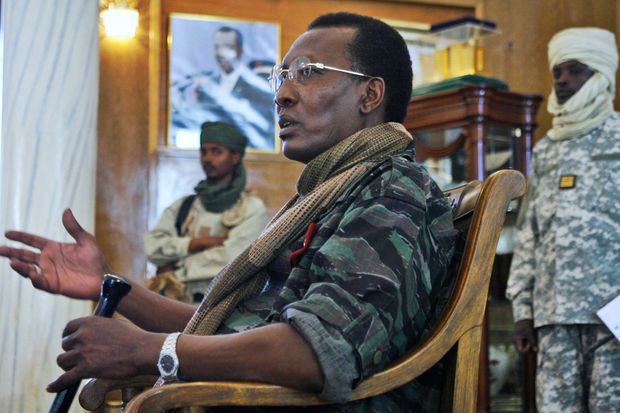 PRESIDENT IDRISS DEBY ITNO (1952- 2021)
By Femi Olugbile
The abiding memory many Nigerians would have of Idriss Deby is of a man in his sixties, sitting, swagger stick in hand, among a group of his soldiers, at a location within the borders of Nigeria. The date was just a little over one year ago. He was in military fatigues. He was lean. He looked tough as hell, a fighting man who had lived by the gun virtually all his life.
That he was President seemed just an incidental detail. That he was a General nobody could doubt, from his visage and his general mien.
The news at the time was that Idriss Deby Itno and his soldiers, in response to the depredations of Boko Haram in his country Chad, and generally in the Lake Chad Basin, had finally decided enough was enough. They had routed the terrorist group from all its hideaways and pursued its fleeing cadres into Nigerian territory. Boko Haram, the Chadian President declared, was tottering on the brink of defeat. From his words and his body language, he was ready to complete the rout and put the insurgency to the sword once and for all. His men had narrowly missed the Boko Haram leader Shekau in the battle and had eliminated many of his lieutenants. They knew where the man was hiding and were ready to apply the coup de grace.
Without saying it in so many words, he implied that they awaited the final go-ahead from the Nigerians.
Characteristic of the troubling ambivalence of the Nigerian state concerning Boko Haram, the go-ahead, apparently, never came.
The rest, as they say, is history.
President Idris Deby Itno died on 20th April, 2021. He had sustained injuries two days earlier on a battle front in the north of his country where he was confronting rebels.
For perspective he had just won a presidential election – his sixth, and he was due to commence another five-year term in the office of President, which he had already occupied for thirty-one years. In the normal order of things, there were supposed to be celebrations in the capital, and the President was supposed to have a ceremonial inauguration to usher in his new term. But Deby had no patience with these formalities. He went off to fight rebels. And died.
Was Idriss Deby then an African hero? Afterall, he had been Chairman of the African Union, for one term. He had also been heard, paradoxically for a man who had 'won' six elections, to be advocating for legislation on term limits for office holders.
Deby, who added Itno to his name while in office, came to power by overthrowing a now disgraced and incarcerated despot, Hissene Habre in December, 1990. He transmuted to a 'civilian' President by winning elections for the Presidency in 1996. He won again in 2001, 2006, 2011, 2016 and, most recently, in 2021.
Chad is not exactly a thriving exemplar of Democracy. In sooth, few African countries are. Even Nigeria is not.
Deby survived several rebellions and coup attempts in the course of his thirty-year reign. He was a man with a strong arm and an imposing presence. The son of a herdsman of the Bidayat clan in the Zaghawa community, he was trained as a pilot and he returned to the Army after his training in France. After the collapse of central authority, he joined the warlord Hissene Habre. When Habre became President in 1982, Deby was made commander of the army.
His period on the job was marked by widespread turbulence with various insurgencies in the land, including groups supported by Libya under Muammar Gaddafi.
Paradoxically, when eventually Habre became paranoid and turned on many of his closest supporters, Deby fled to safety in the same Gaddafi's Libya.
The Libyan strongman offered him aid to seize power in his homeland. The result was the formation the Patriotic Salvation Movement, which is the ruling party in Chad today.
On 2nd December 1990, Deby's troops marched into N'Djamena, and Deby became the new strongman of Chad.
For a country with so many insurrections by groups whose trademark is pillage and murder, the names of many of the insurgent groups sound peculiarly lofty and aspirational. The rebel group Deby was fighting against at the time of his death was named 'Front for Change and Concord in Chad' (with the French acronym FACT). One of the pro-Habre rebel forces he had to battle early in his incumbency was named 'Movement for Democracy and Development'.
Democracy? Development?
There has not, unfortunately, be a great deal of either of these in the turbulent country that is Chad. Indeed, when President Deby became the Chairman of the African Union in January 2016, succeeding Zimbabwe's Robert Mugabe, he admitted as much, telling the assembled Heads of State that conflicts in the continent had to be ended, whether by diplomacy or force. '…We cannot make progress or talk of development if part of our body is sick…'
He accelerated the fight against Boko Haram and got the African Union to expand the Multinational Joint Task Force. His last years were occupied with efforts to maximize the benefits accruing to his countrymen from their petroleum resources, an on again off again battle against endemic corruption, and a battle against FACT rebels, who, in the bizarre configuration of interests that is all too common nowadays in Africa, were alleged to have been trained under the renegade General Iftar in Libya, and armed and supported by Russia and the UAE.
Idriss Deby's death is mourned by large numbers of his countrymen, but celebrated by Boko Haram and the sundry terrorists in the Lake Chad Basin and the Sahel, as well as their local and foreign backers. It is not good news for Nigeria.
Idriss Deby Itno had five wives and several children. But he never seemed to have a moment's peace.
May the soul of this brave African rest in peace, at last.