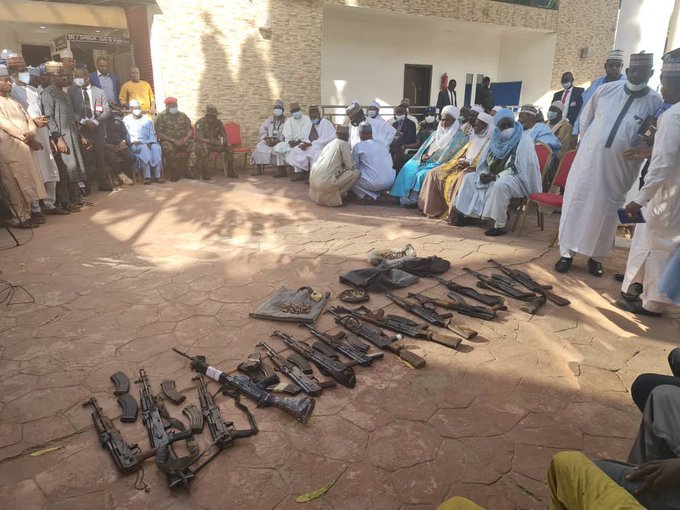 23rd Jul 2021
|
by:
admin
THE SOCIAL PSYCHOLOGY OF BANDITRY IN NIGERIA
Femi Olugbile
There is such a state of insecurity in Nigeria as has not been seen at any time before in its history, except perhaps during the three years of the country's civil war. According to Global Right Nigeria, an international body that keeps track of such matters, 4,556 Nigerians were killed as a result of such insecurity in the course of 2020. In the view of some people, this number is probably an underestimate. The numbers of people whose lives have been affected by such incidents is vastly larger, running into the millions. In the North-East region alone, according the UNHCR, the number of internally displaced citizens is estimated to be of the order of 2.7 million people. Substantial additional numbers are known to have been similarly displaced as a result of so-called 'farmer-herder' conflicts that have become a virtually continuous occurrences especially in the Middle Belt, but also in the South West and some parts of the South-South.
The casualty figure for violent events in 2020 represented a 43% increase over the figure for the previous year – 2019.
Borno State, not surprisingly, has had the highest number of victims of mass violence, followed by Kaduna State. The ten most fragile states in Nigeria based on the violence figures are, in descending order Borno, Kaduna, Katsina, Zamfara, Niger, Benue, Delta, Plateau, Edo, and Adamawa. 'Only' 24% of the total number of documented killings, according to the source, took place in the Southern part of the country.
A breakdown of the figures, revealed, contrary to general assumption, that the majority of deaths were due to incidents described as 'banditry', while deaths due to Boko Haram and ISWAP attacks ranked next to this, followed in declining order by communal violence, extrajudicial killings, and herdsmen's attacks.
If the figures are to be believed, 'bandits' have contributed more to the pervasive air of insecurity and to the body count of victims of violence than any of the other causes, including the Bokom Haram/ISWAP insurgency.
Who, then, are the 'Bandits', and what is the psychology behind their quaint appellation?
That the label in the Nigerian context carries a special connotation may be gleaned from a few words and incidents from our recent past. Sheikh Gumi, a notable cleric has been heard to say that 'bandits' are young men who have grievances against society and must be listened to and negotiated with. To demonstrate the virtue of this approach, he has led forays into the forest hideouts of 'bandits' in Kaduna and Niger states to hold conversations with them. He has also been heard to say to them, concerning the occasional half-hearted military efforts to dislodge them, that it is soldiers of another faith that are responsible for shooting at them.
Such actions have attracted opprobrium from some parts of the country. However, a large number of people in some other parts of the same country are in agreement with the underlying logic. Some Governors have even been known to pose for photographs with 'bandits' in 'peace-making' efforts.
All of this makes it possible for the outside eye to begin to understand  how people who kidnap, kill and maim citizens brazenly and whose locations are well known, are able to live 'safely' in their enclaves.
Sheikh Gumi's unapologetically protective stance, to many Nigerians with long memories, is reminiscent of an earlier Sheikh Gumi, perhaps his father or older relative. Some decades ago, during a period of rioting and inter-communal bloodletting in Kano, many almajiris, who, as usual, were playing a prominent role in the vanguard of the mayhem were rounded up by soldiers led by a no-nonsense General named Adamokhai. The General sat them down on the main road while he calmed down the city and tried to assure citizens the danger was over.
Furious at the General's action, Sheikh Gumi issued a statement protesting that the 'innocent children' should not be made to sit in the hot sun but should be released 'to go to their mothers'.
The general reaction of the public, who had witnessed the havoc wreaked and were glad to see order restored, was incredulous. Mothers?
The crux of the matter is that 'Bandits' are, for the most part, Nigerians, 'born and bred'. They are a psycho-socio-cultural problem that is owned, but not admitted to, by northern Nigeria. They are a problem that represents a real and pressing danger to their society far greater than any other. Boko Haram and ISWAP can be seen off, or at least contained, by a credible, determined effort of government. The herder-farmer conflicts could be speedily brought to an end by a government acting transparently in a balanced credible way in the interest of a nation that respects all its citizens and sees them as truly equal to one another. It would also speedily dial down the intensity of secessionist agitations.
Banditry is on another level. It is the almajiri chickens coming home to roost. A whole generation has grown up untrained, and now untrainable, to carry out the basic rituals of modern living. And they have learned to shoot guns. For the first time in their lives, they have power.
The Gumi solution of giving them recognition and money will not work. How much money will be enough money to sustain a lifetime of drugs, drinks, and women?
The other 'solution' of rehabilitating and reintegrating them into society will not work either. Power has changed hands. The poor biological father of a 'bandit' who comes to a 'home' he has never lived in for 'rehabilitation' after handling millions in ransom money and killing policemen and soldiers is best advised to run away from that 'home', if he values his life.
Even the option of pursuing out and out military elimination of the 'bandits' will not work. Things could get very violent in those areas, with tit-for-tat atrocities, and the poor citizens caught in the crossfire. There is also the larger danger that 'bandits' who are in reality in the business purely for power and filthy lucre, may be driven into the arms of an organized murderous group with a 'ideology', such as ISWAP, swelling their ranks and presenting Nigeria with a real nightmare scenario.
Bandits are the reason why the elites huddle in Abuja and find it difficult to go 'home' at weekends. They are the people who have made the Abuja-Kaduna road hard to take, and driven their 'masters' to the railways.
Instead of pursuing unfair advantage in Voter Legislation or in the wordings of the Petroleum Industry Bill, or in the general distribution of 'federal' power structures –  the perennial hallmarks of a dysfunctional 'federation', the best minds in the North should be occupied with the question 'How do we rescue a lost generation, in whom society has invested nothing, and who have nothing to lose?'. And just as importantly, 'How do we prevent the generation of children growing up now on those same streets, unlettered, unloved, untouched by parental influence, from becoming the next generation of bandits? '