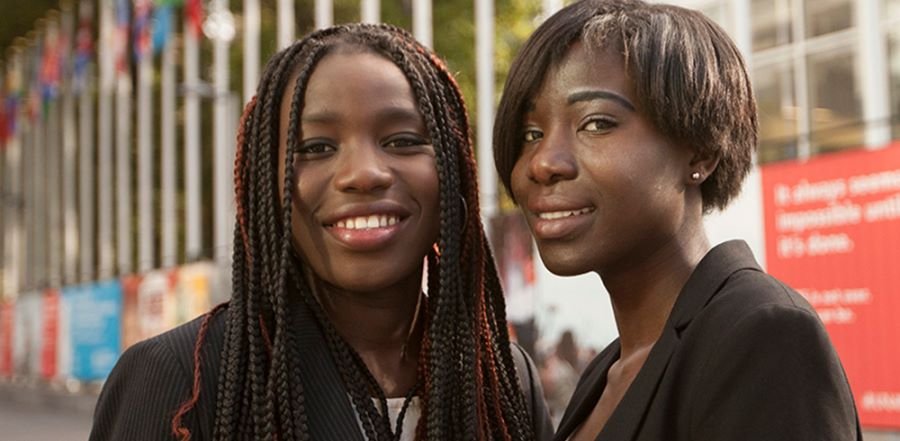 11th Jun 2021
|
by:
admin
THE CHIBOK GIRLS WHO MADE GOOD
By Femi Olugbile
On April 30, 2021, two young Nigerian ladies – Bishara and Pogu graduated from an American University. Bishara took a degree in Social Work. Pogu's degree was in Legal Studies.
It was a poignant, significant event. The two young ladies faced the international media, and were fluent and voluble in their joy and their self-expression.
Pogu and Bishara were abducted from their school dormitories in Chibok, Borno State while they were prepared for their O-level examinations. On the night of the 14th of April, 2014, terrorists from the Boko Haram group invaded the dormitory of the Government Girls Secondary School, Chibok and abducted two hundred and seventy six girls. They fired their guns and created a state of mayhem.
To be sure, there had been some strange happenings in the area before the incident. There were rumours of an impending terrorist attack. For four weeks the school itself was shut down. It was reopened, ostensibly for the purpose of enabling the girls to sit for their scheduled external examinations.
Doubts were raised about collusion and conspiracy in how the school authorities chose to allow the students, most of whom were Christian offspring of families from surrounding areas, to come back to school in such a dangerous environment, and the suspicious body language and utterances of the principal. Fifty-seven of the abducted girls risked their lives to escape as the terrorists' trucks drove the panic-stricken schoolgirls into the night and into an uncertain future. They jumped down from the trucks conveying them and escaped into the bush.
There was doubt in the minds of some people whether any 'abduction' actually took place. Some suspected that the event was 'arranged' by local sympathisers of Boko Haram, of which there were clearly many. Many would recall the scepticism that attended the convening of a women's forum in Abuja by the wife of President Jonathan, ostensibly to find solutions to the problem in Chibok. The First Lady, apparently expecting a large, distraught entourage from Borno State, on noticing that the school principal was the only person in attendance from the area, famously asked, in her familiar pidgin:
'Na only you waka come?'
The agitation for the Chibok girls to be freed or rescued from captivity by any means possible became a big international cause. By April 2021, seven years after the night of horror in Chibok, it was general knowledge that some of the girls had died, some had escaped, some had been 'rescued', and some had been 'raped', forcibly 'converted' and 'married' by their captors. Over a hundred students of Government Girls Secondary School, Chibok remained in the clutches of the fundamentalist terrorists.  And the lives of countless Chibok families had been permanently dislocated.
For the girls who escaped or were rescued, the psychological trauma could only be imagined. Many of the parents had declared they had no wish to send their girl children to school ever again. And the brazen impunity of the terrorists as well as the suspicious body language of government officials would make it virtually impossible for them to trust the Nigerian state ever again or believe its promise of a good life for all.
Bishara and Pogu were among the girls who escaped by jumping down from the terrorists trucks during the abduction. Because of the international furore, some of the 'escapees' and some of the 'rescued' came to attention of the world press. Charities and foreign governmental organisations took up the cause of giving education and a new lease of life to a few of them. During the several photo sessions the girls had with the press immediately after their ordeal, it was remarkable how poor their communication skills were, and how ignorant and untutored they sounded by comparison with the common run of students from all over Nigeria who were sitting for 'WAEC' exams like them. Many observers who saw them in these appearances must have wondered if these girls had any chance of passing the examinations anyway. Perhaps they had been mercifully saved by the abduction! Though it felt like an uncharitable thought, it sadly spoke eloquently of the poor quality of education in Borno State, as in many of the Northern States, as evidenced by their persistently performances in WAEC and NECO. Bishara and Pogu were indeed among the girls interviewed in 2014 who could barely express themselves or convey a meaningful concept.
In April, 2021, after successfully navigating the rigours of an American education, Bishara and Pogu were interviewed again by the international press. Their language and their thoughts – of a great future filled with bright prospects, were indistinguishable from their peers elsewhere in Nigeria, and all over the world. They would fit seamlessly into any work pool, or stand a good prospect in any career they chose to follow.
The take-away message from the success story of Bishara and Pogu is that the educational backwardness of a large part of Nigeria is probably not due to 'nature' – meaning an inherent inability to learn 'book work', but to 'nurture' – an environmental and educational culture that is not up to scratch. The Boko Haram ethos itself is emblematic of that culture.
If Nigeria is truly to be one nation, rather than a 'mere geographical expression' or a fraudulent contraption, all the children, North and South, must be 'nurtured' in an environment that educates them in a uniform, standardized way to attain their best potential. The current pattern where NECO and WAEC record wholesale failures in some states, leading to bizarre efforts to 'balance' higher education recruitment by setting lower entry standards for some people is guaranteed to achieve only the opposite of what it purports, by perpetuating a culture of inferior educational 'nurture' for some children, leaving them with a permanent chip on their shoulders.
Warm congratulations to Bishara and Pogu, from Chibok, Nigeria. To each, this column says – 'Have a great life'!