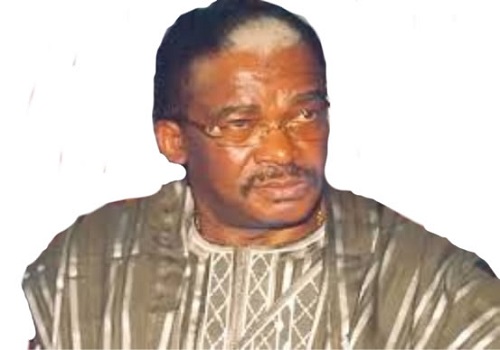 Remembering General Oladipo Diya
By Femi Olugbile
On the 26th of March 2023, the sad news was announced of the death of one of Nigeria's most distinguished soldier-statesmen, Lieutenant General Oladipo Diya, GCON, BL, PSC, FSS, mni.
Since the news broke, many sympathetic, respectful eulogies have been published in newspapers, and kind words have been uttered in the public space. Off the records, however, the expressed sentiments have been somewhat more complex.
One of the hardest parts of writing a meaningful biographic sketch is how to deal with the difficult parts of a person's life without appearing disrespectful to their memories. Psychologists recognise that even in a family, when an important member dies, the loved ones undergo a process in which the deceased is 'idealised'. The good aspects of the individual are magnified till they occupy the whole landscape. Negative elements, even the ones that were in common discussion while the loved one was alive, suddenly disappear. That is how come every mother at the time of death is tearfully celebrated by those she left behind as 'the best mother in the world'.
Donaldson Oladipo Oyeyinka Diya was born on the 3rd of April 1944 in Odogbolu, present-day Ogun State. He had his Primary Education at Yaba Methodist Primary School, Lagos. He later proceeded to Odogbolu Grammar School. He joined the Nigerian Defence Academy. Shortly after completing his training, he was pressed into service in the Nigerian Civil War, fighting in Bonny Island and other sectors under Colonel 'Black Scorpion' Benjamin Adekunle.
From early, he had a reputation for courage, and a certain brusqueness. He cut the image of a soldier's soldier who had little patience with the tardiness and limitations of other people. He was always in a hurry to get the work done. It was an image he cherished and burnished as he rose rapidly up the military ladder, attending the US Army School of Infantry, the Command and Staff College, Jaji, and the National Institute for Policy and Strategic Studies, Kuru. He also studied Law at Ahmadu Bello University, Zaria.
From January 1984 to August 1985, when General Muhammad Buhari was military Head of State, Diya served as the Military Governor of Ogun State. Some people complained that he ran the public service of the state, and the people in it, like a military garrison. This generated a certain amount of ill will, especially among those who felt unfairly stampeded out of their careers. Diya was unfazed.
He returned to the Army.
Soon public life called again, with the June 12 imbroglio concerning the election victory of Chief MKO Abiola, and the annulment.
People and interest groups all over the nation, especially in the South-West, felt aggrieved at how military President Babangida had dealt with Abiola and the aspirations he represented, including his victory in a national vote that was acclaimed free and fair. When eventually Babangida was forced to 'step aside', frantic back-room politicking was set loose to determine the next course of action. A shaky 'Interim Government' with a wafer-thin grip on power was installed, but it was obvious to the discerning that General Sani Abacha was waiting in the wings to take over. It fell to Diya, a close friend of Abacha, to sell an Abacha interregnum to a sceptical public, including an inner circle of Abiola supporters, as a logical pathway for reclaiming the June 12 mandate. What Diya offered them, on behalf of his principal, and whether he himself believed that Abacha intended to keep his word, whatever that was, are matters that only people like Professor Bolaji Akinyemi among the living are fit to clarify. What is undoubtable is that Diya bought time for Abacha and calmed the agitation sufficiently for Abacha to make his move and consolidate.
Of course, Danger, Disillusionment, and Tragedy soon followed, for Nigeria, and for Diya himself.
Was Diya a good judge of human character? Did he really know the 'friend' he was vouching for, and putting his name, and his life, on the line for? Did he believe whatever assurances Abacha gave to him, which he transmitted to others? Those assurances led some people to make decisions which were to cost them their lives. For Lateef Jakande, 'Baba Kekere', it cost him his hard-earned reputation, trapping him in a political cul-de-sac.
As time went on, Abacha began to bare his fangs and reveal himself. Diya, his ostensible second-in-command, became increasingly imperilled. By then, fellow officers were wearing Abacha brooches on their uniforms, Shina Peters and Onyeka were eulogising the 'Maximum Ruler', and even the great Ikemba was carrying out well-funded foreign 'image-laundry' missions for him. Nigeria had become a theatre of the macabre.
Was there truly an effort to topple Abacha? Or was Diya, trusting as usual, trapped in a sting operation by his fellow General, Ishaya Bamaiyi, who was trying to advance his own agenda? The Head of State was by then wrapped in a paranoid bubble in Aso Rock, seeing enemies in every corner, every shadow.
In the tragic denouement, there was the 'I lost my composure' prostration before his peer, which lost him his military face forever. And the death sentence.
It is said that the 'Black Maria' that was to convey Diya to execution broke down, and he was returned to prison, with a decision that he be flown to another execution ground the following day. Before the next day arrived, Abacha died, and Diya was reprieved.
It has been a quiet, dignified life of retirement since that divine reprieve. People have come round to show respect, and to offer reassurance that it is alright to be human, and Diya is still remembered as the fearless young officer who went to war to save Nigeria.
With so much love and acceptance around him, he must have found peace, and even happiness, in his last days.
May the soul of General Oladipo Diya rest in perfect peace, and may the Good Lord give comfort and solace to his family.