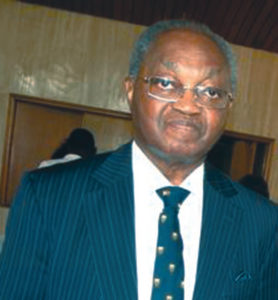 A TALE OF TWO TITANS OF NIGERIAN HEALTH
1.
Emmanuel Adeyemo Elebute (1932- 2019)
by Femi Olugbile
Today – Friday 8th March, Nigeria is laying to rest one of the giants and exemplars of excellence in the field of Healthcare in the nation.
The story of Adeyemo Elebute – in a literary sense, could be applied to the whole of the Medical Profession in Nigeria, despite its present gloom, and titled 'We have been great before and can be great, yet again'.
He is – it is difficult to write about him in the past tense, a man with two extremely distinguished careers – one in public service, and one in the private sector, seamlessly interwoven. Either one of the careers would ordinarily have been enough to earn him immortality.
He studied Medicine at the University of Dublin, Ireland. He graduated with BA, MB BCh, BAO degrees in 1956, racking up a string of prizes and distinctions, including the prize for best performance in professional examinations throughout the duration of his stay in the medical school.
He went on to train as a surgeon, becoming a Fellow of the Royal Colleges of Surgeons of Edinburgh and England in 1960.
He worked at a number of notable institutions in the UK.
Back home, he worked at the University College Hospital, Ibadan until 1962 when he left for Lagos to join the foundation staff of the Lagos University Teaching Hospital (LUTH).
He became of Professor of Surgery in 1969. He was President of Nigeria Medical Association from 1968 to 1970.
He became Provost of the College of Medicine in 1977 and held the post till 1980. From 1978 till 1980, he was also Chief Medical Director of the Lagos University Teaching Hospital. During his tenure as CMD, he was appointed Chairman of the World Health Organization's Committee of Heads of Medical Schools in the Africa Region. He served on many local and international bodies. He served as President of National Postgraduate Medical College and was Chairman of the Health Group of Vision 2010 Committee.
His research led to marked improvements in the care of critically ill patients in the tropical environment, including the creation of a 'Sepsis Score' for assessment and follow-up of patients with severe sepsis.
Sitting with Professor Elebute some time ago in his expansive Surulere residence, you were struck by the unaffected candour of the man as he reminisced. He was trying to explain to you how, after his career at the Teaching Hospital, a career interspersed with several short stints in gold-standard training establishments in different parts of the world, he was at a loose end, wandering what to do with the rest of his life, since he was 'retired but not tired'. One of the options he considered was to offer his surgical skills free of charge to Lagos State wherever they felt they might be useful.
As he was mulling this, it came to him that his driving passion for the health of Nigerians had crystallized over the years into two critical issues – Access (most Nigerians did not have access to good healthcare because it was not available or they could not afford it) and Quality (virtually all the healthcare facilities available were of unstandardized poor quality). The question arose in his mind – should he not put his money where his mouth was, so to say?
This worry, shared with his equally concerned wife, Professor Oyinade Elebute, herself a notable Physician, Researcher, and a Professor of Physiology, would lead to the birth of Hygeia Nigeria Limited in 1985. Hygeia would create and practicalise in Kwara State and elsewhere, with international support, a workable model of Community-based Health Insurance, a concept that would, several years later, be incorporated into Nigeria's National Health Act as a way of providing access to health for the masses, and also be replicated with modifications by Lagos and several other forward-looking states in the federation.
Hygeia would also birth Lagoon Hospitals, a hospital group which would become the first Nigerian health facility – public or private – to obtain international accreditation from Joint Commission International (JCI), the gold standard for quality in healthcare all over the world.
In addition, Hygeia would provide impetus for the formation of Society for Quality Health in Nigeria (SQHN), a body set up to pursue the cause of Quality Improvement in healthcare in Nigeria, and to create a local capability to assist Nigerian health facilities to carry out Quality Improvement and obtain Accreditation as Quality institutions. Quality improvement, focused on using best practices and standardizing procedures, was necessarily an expensive journey. The Accreditation would be rendered less expensive and daunting if Nigerians learned, under the guidance of the international body ISQua (the International Society for Quality in Healthcare), to do it themselves, as has been done successfully in South Africa by COHSASA (the Council for Health Service Accreditation of Southern Africa).
There are subtle, unstated, perhaps even unintended implications and overtones to the preoccupations and accomplishments of the last years of Adeyemo Elebute's life. One of these is that Medicine is a Social Service and a humanitarian calling, but it should also be seen as a Business. Nigerians, have for too long, failed to accept and develop properly, the reality and possibilities of the business proposition. This has led to a situation where medical practice is not seen as bankable, and very few businessmen are ready to invest their money in building medical facilities or resources. It is, of course, a situation that is now in the process of change following the advent of the Lagoon group which has demonstrated that not only local but even international finance can be accessed if appropriate business standards and practices are met.
Another glean of wisdom derivable from Elebute's foray into the private sector could be traced to his experience when he was a public servant. You would recall the story as he told it to you in that memorable meeting in Surulere even as he handed you an autographed copy of one of his books 'Worthy in character and Learning'. When he became Chief Medical Director of LUTH, he realized he had no Management training, and had to learn on the job. Professor Adeoye Lambo was Deputy Director in the WHO. He had his ears to the ground in Nigeria and recognized his compatriot's plight. There was no Management training in medical school. A great doctor was not necessarily a great manager. Lambo proceeded to organize a crash training for CMDs in the WHO's Brazzaville office, and arranged for Elebute to be the Chairman of similarly challenged brilliant doctors from all over Africa who suddenly found themselves shoved into management to sink or swim.
Nowadays, private establishments built to drive towards becoming centres of excellence, and even the better public hospitals, are arming themselves with a good business case and a strong management base as standard survival necessities, with the Lagoon group as a powerful model.
Providing Access to Healthcare for Nigeria's teeming millions and ensuring that they receive good Quality Healthcare grew to become Professor Adeyemo Elebute's overarching Mission in life. They constitute the enduring legacy he is bequeathing to his profession, and his nation.
May his soul rest in peace.