21st Apr 2023
|
by:
admin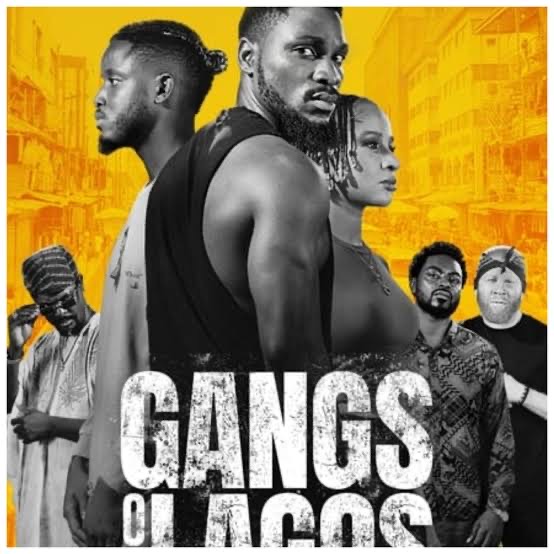 Culture. Politics, and a rampant underworld (a review of the film 'Gangs of Lagos')
By Femi Olugbile

The film 'Gangs of Lagos' was recently released to an international audience on Prime Video, a streaming network belonging to the Amazon stable.

You are already aware of the controversies swirling around the film, before you see it. There has been condemnation from official and non-official sources concerning its depiction of Lagos culture and people, especially the popular and much-revered 'Eyo'. Even Chief Akinsiku, the Alaworo of Lagos whose office pertains to the sacred institution of Adimu Orisa, has felt obliged to issue a public statement about the misrepresentation and trivialisation of the Adimu Orisa, hinting at spiritual repercussions.
The Lagos hustle jumps at the face from the first minutes. The popular gangster Ninalowo ('Nino') who is pencilled down to become 'Eleniyan' (owner of men') tells his boss, the ageing 'Alaye Bambam', that he has a good deal of money stashed away and is thinking of getting away and starting 'business'. 'Alaye's' reply is instructive.
'There are only two ways in this life – six feet under the ground or take your rightful place in Politics.'
It is a cliché – the automatic tie-in of all Politics with criminals, and it is one of the threads running through the fast-paced, action-filled movie. It is, you decide, not exactly true, or fair to Lagos.
A documentary-style narrative voice guides the viewer along the way; it shifts between a smug know-it-all and the private thoughts of the protagonist. The 'aro' chant of the Eyo masquerade is all-pervasive, painting a uniquely Lagos tableau. But the narrator quickly overreaches, and puts his foot in his mouth. Purporting to eulogise Eyo, he goes on to say a rude and howling untruth. Eyo, he says, was 'the first gang'.

Even a little child born and bred in Lagos would protest that Eyo is no 'Gang'.
First celebrated in 1854, it is one of the most cherished traditions of Lagos people, rolled out to honour the lives of eminent Lagosians who have died. It is a festival with a protocol, in which the most eminent families are proud to give active, personal participation.
The howler, situated at the beginning of the film, immediately brings to your mind the spectacle of the 2011 Eyo, and Chief Rasheed Gbadamosi in the front-ranks of his Eyo group as they enter the grounds of Tafawa Balewa Square, and move around the track. Passing by where you stand, he comes over, his head cloth lifted over his akete.
'Egbon', you say as you extend a hand across the rail for a handshake.
'The left one' he says, gently, as he pushes your hand away and reaches forward to shake your other hand with his left.
He is not looking in the very best of health, but he clearly considers walking through the streets with the Eyo associated with his family an over-riding obligation.
You would see him next, a couple of years later, at the launch of one of your books.
Rasheed, economist, politician, writer of plays, including 'The Mansion' – a landmark depiction of life among the Lagos elite of old, which made waves when the medium of television was still new, starring a drop-dead-gorgeous Teni Gbogboade (later Aofiyebi); Rasheed – a veritable Omo Eko, was a man with a high sense of loyalty. He would pass on to glory shortly after that encounter.
Eyo – a gang?

'Gangs of Lagos' is the story of little Obalola as he wends his way up the ladder of criminality in Isale Eko, starting from petty street robbery to murder and pillage, with open-hearted generosity and street popularity. It turns out the same traits might have been responsible for his father not being alive to see him grow up, leaving him in the desperate and despairing hands of his mother, who tries every means physical and spiritual to keep him from a life of 'Evil'. She fails.
It is the story of Kazeem, who becomes 'Eleniyan' and is cut from a different cloth from Nino, and Oba. It is the story of 'London' – a gangster portrayed with great verisimilitude by Fuji maestro Pasuma. Ricca Street, Isale Eko, is a centre of activity.
There are several wonderful performances. Adesua Etomi-Wellington ('The Wedding') as Ebun, for the first time shows an aggressive, muscular side to her acting skills, wading through bloody street brawls. Tobi Bakre 'kills' the part of Oba. Bimbo Ademoye is Teniola, Kazeem's winsome, buxom daughter. Olarotimi Fakunle is a crusty, fearless, totally unscrupulous Kazeem ('I – the son of a butcher will become their Governor', he shouts, gun in hand, in the cliff-hanging denouement). Chike Ezekpeazu Osebura is Ify (aka Panama), the gentle, singing criminal.
There are Gangs in most cities of the world, and 'Gangs of Lagos' should ordinarily be seen as an action film that adds to the pizzaz of Lagos, a city considered by many to be the most boisterous in Africa.
The producers, directors and actors are children of Lagos, by and large.
It is also true that Isale Eko, the throbbing inner city of Lagos, is overburdened with people and with commerce, and has been in dire need of physical and sociological regeneration for decades.
The problem of the film is in the ignorant narration, and the portrayal of what would be a gross aberration as the core essence Eyo.
What would Rasheed Gbadamosi do to calm the ire against 'Gangs'?
Perhaps he would advise that the rude, false bit about being 'First Gang' be taken out?
Perhaps he would ask the producers to find the common sense to apologise to Chief Akinsiku and the people of Lagos, stating it is their intent to promote Eyo and not bring it into disrepute?
Perhaps they would respond, and allow themselves to be embraced as part of the true wealth and golden future of Lagos?
Or perhaps they would take an in-your-face stonewall stance, knowing that there is nothing, really, that anyone can do to them?

On another level, perhaps Lagos itself would see its way to making Eyo an annual festival to celebrate its notables and provide reason for Lagosians in the diaspora, and hordes of tourists, to descend at a scheduled time every year to savour their city and make the commerce explode? After all, Culture, in societies that survive and thrive, is dynamic, not static.
Perhaps Eyo could even go back into history and celebrate Madam Pelewura, whose story is about to be published, and Chief JK Randle, and Herbert Macaulay?
To take a line from Obalola in the film, 'Omo aiye kii j'oju aiye'.
Anyone interested in a translation of that line may seek it from – yes, Isale Eko.

Gangs of Lagos, produced by Jade Osiberu, is available on Prime Video.