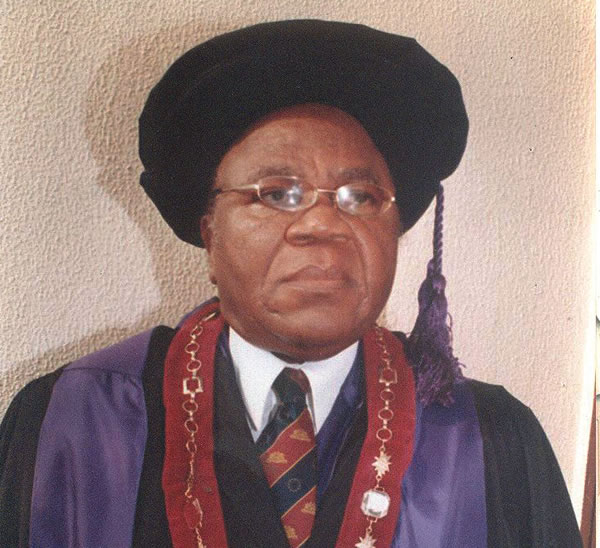 A TRIBUTE TO AMAECHI OBIORA, THE 'O' IN EKO HOSPITAL
By Femi Olugbile
Dr Amaechi Obiora, Onya Ozoma of Onitsha, translated to eternity a few days ago. He was aged eighty-five years.
He was a brilliant and dedicated 'old school' general surgeon. So much did the 'cutting' come to be a commanding focus of his life that his autobiography, which was published as part of the celebration of his 80th birthday, was titled 'Brushes with my knife: Encounters in my surgical journey'.
He was a humanist who cared about people. And a family man who doted on his mother and embraced family to an extreme. He was proud of his identity, and he reveled in Igbo culture. Though he laughed readily, his default countenance was a serious demeanour. Being that way, in a world filled with imprecision, ambiguity and a frequent need for flexibility, it was easy to get under his skin, and people often did.
The whole issue of how healthcare, including mental healthcare, of international standards could be delivered sustainably to the generality of the population in an African context was a matter that occupied your mind at the point in your life when you came up close with the personalities behind the EKO acronym. Mental Health needed to stop being seen as the exclusive preserve of the old, big government psychiatric institutions that had existed for several decades. It needed to be taken into the community, into primary health centres and into the general hospitals and private hospitals. And Medicine was a calling, but also a business that needed to become both profitable and accessible. What you could not figure out yet was – how?
The Lagos of the early 1980s was of an easier and gentler Lagos than the present.
Sonny Kuku, consummate physician and endocrinologist, the brilliant bon viveur who was the 'K' in the EKO triad, and who would later become the Olorogun of Ijebuland, drove up to the house one evening in his sleek sports car to listen to your idea of running a mental health clinic in the Surulere flagship.
Right away, he said, after hearing you out.
You noticed he had a way of combining deep professional deliberation with lighthearted banter. He does, to the present day.
Alex, the 'E' in the triad, was a quintessential 'Omo Eko'. He was a Surulere boy, of Ibo origin, scion of the rich and famous Madam Mercy Eneli after whom a major street in the area is named. He spoke flawless Yoruba and, like his partners, liked the good life. He was a highly skilled obstetrician and gynaecologist.
Memories of conversations with Alex bring a smile to the face even now, so many years after he sadly passed on. One day he earnestly begged you to do psychotherapy with a close friend of his, another 'Omo Eko', who was in an explosive domestic relationship that he feared might end badly for him. He did not want his friend to die. He would bear the cost of your treatment.
Sadly, his fears were justified, as you got to discover. Despite your ministrations, his friend, a brilliant, affable but high-strung man, broke off therapy and passed on not long after under the burden of stress, almost certainly due to his domestic situation.
And you would remember being flabbergasted decades later, at a party your family held to celebrate a landmark birthday for you, to see Alex, who by now was in severely impaired health, sitting alone at a table as an early arrival, before a dripping bottle of champagne. The intervening years dropped out, and it was like old times, once again. A short while later, Alex departed to the great beyond.
Amaechi studied Medicine at University College, Ibadan and was in Biafra during the Civil War, providing medical care, and accumulating such an impressive range of surgical experience that a panel that interviewed him for a surgical residency at St Bartholomew's Hospital London were stunned by the number of surgeries he already had under his belt. He would soon after return to Nigeria as a Fellow of the Royal College of Surgeons and team up with friends he met at LUTH to found a unique experiment in Nigerian healthcare, the EKO Hospital.
They were young and brash, and they were pitching for something new at a time when it was assumed that the only place to look good healthcare, cutting edge equipment and world class medical skills was in the government-owned Teaching Hospitals. They turned the logic on its head and opened the way to others.
You would experience Amaechi in Onitsha, where he went to take his title, in a weekend when he let you know that goats were an endangered species, because he could be fined by elders for any offence, such as not dancing vigorously enough. The fine was invariably a goat.
Several years later, at the burial ceremony for your own father in Ijebu Igbo, as you returned from Church and approached the house on Oke Erefon for the ensuing party, there was Amaechi sitting already at a table, in his red cap, with a 'sweating' bottle of Gulder before him, and a satisfied smile on his face.
The EKO project has since become a corporate behemoth. The questions the three young men answered in the affirmative so long ago are still relevant to young doctors starting out today. Can you aspire to world class Medicine in Nigeria? Can partnerships work, especially when formed across lines of tribe?
Some of the easy friendship and trust that went in the mix to make EKO possible may have frayed at the edges over the years. It is the human condition.
It is to be hoped that the derring-do of the three young doctors of yore will continue to drive EKO, irrespective of any latter-day developments, and keep for it a prominent position not just in the history but also in the future of medical practice in Nigeria.
May the soul of Amaechi Obiora rest in perfect peace.